Sun, dancing and food!

In the midst of the lovely sunny weather we are currently experiencing, it's only right that you get outdoors and have some fun before it randomly starts raining (which is very common in London). As I have mentioned before, I love getting my legs out and enjoying the sunny weather. It always gets everyone in such high spirits, even in the office! Everyone is in such a good mood when we get a glimpse of the sun, and it's all reflected in the colourful outfits worn by our team members!
There are so many fun activities to attend this summer, ranging from festivals to fun days at the park and even opportunities for you to get your groove on to a live outdoor West End musical in Trafalgar Square.

One event you should definitely be attending this summer is West End Live, on Saturday, 16th –Sunday 17th June. As someone who thoroughly enjoys the likes of Grease, The Book of Mormon, Hamilton, The Sweeney Todd, Little Shop of Horrors, The Sound of Music (the list goes on and on and on) I highly recommend attending West End Live. It is one of the few opportunities for you to dance and sing along to your favourite songs, in public and not have everyone stare at you in confusion. Seriously, that is my idea of paradise. There are so many benefits in attending this event. Not only is it free, but stars from some of the biggest West End Musicals (Wicked, Matilda, Everybody's Talking About Jamie, Strictly Ballroom) will be showing their faces there. You'll be able to enjoy their pop-ups, multiple photo opportunities, merch stalls and loads of publicity, so make sure you have your best face on (which means just being yourself and natural!) I wish I could attend, but I'll be on holiday, which is not a bad alternative! Find out more about the West End Live 

About two weeks ago, I went to the Southbank Centre Food Market, which I had never been to before – I think it's good to attend as many new events and places you wouldn't usually go to when you're living somewhere as vibrant as London as there is always an abundance of things to do. It was brilliant, it had the festival atmosphere and really matched the lovely summer weather we were experiencing at the time. There was music, drinks were flowing, and there multi-cultural food stalls everywhere. The great thing about the Southbank Centre Food Market is that you don't need to purchase a ticket before arriving, it's free. Of course, the food, drinks and other various services are not free, but the vibe alone is a lovely one! You can go with friends, family, a date, and have a really fun experience. Everyone is usually in such high spirits, so you'll end the night full and jolly (for me, the two are mutually exclusive!) Find out more about the Southbank Centre Food Market.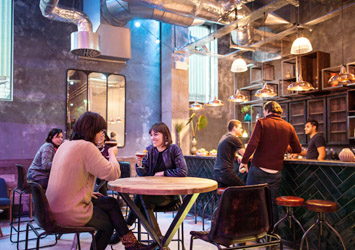 Words by Caroline Otu