Summer 2023: free events and exhibitions in London
Are you studying in London for the whole summer or have you simply decided to spend the season in the city?
The capital offers a lot to students and not only: it is difficult to get bored in July and August. Unlike other cities in Europe, in fact, we can say that London never closes its doors! So we thought we'd suggest you a few events, exhibitions and even day trips so you can take advantage of the good weather without overspending.
Some advice first
London has experienced very high temperatures in recent years, but still has a very variable climate. We therefore recommend to dress appropriately for the weather, in order to withstand both rain and sunshine.
If you're spending time outdoors, stay hydrated. Bring a refillable water bottle with you, and make sure to fill it up regularly. There are currently 5000 Refill Stations where people can refill across the capital, including high street chains: you just have to download the Refill app and find free water in London.
Or you can also check the drinking fountains in the city.
Last but not least tip: be careful of the sun. although temperatures may be in the 20s degrees, the sun can burn your skin. Wear sunscreen, hats, and sunglasses when spending time outside: protect your skin from harmful UV rays.
Having finished these simple, but fundamental tips, we can finally dedicate ourselves to the summer exploration of London and beyond! Free festivals and events in London in July and August. As we have said before, there are many opportunities to experience the city in summer and the capital is also known for its recurring festivals and events. Here are some of them, free of charge, that will also allow you to move around in areas you may not have visited yet!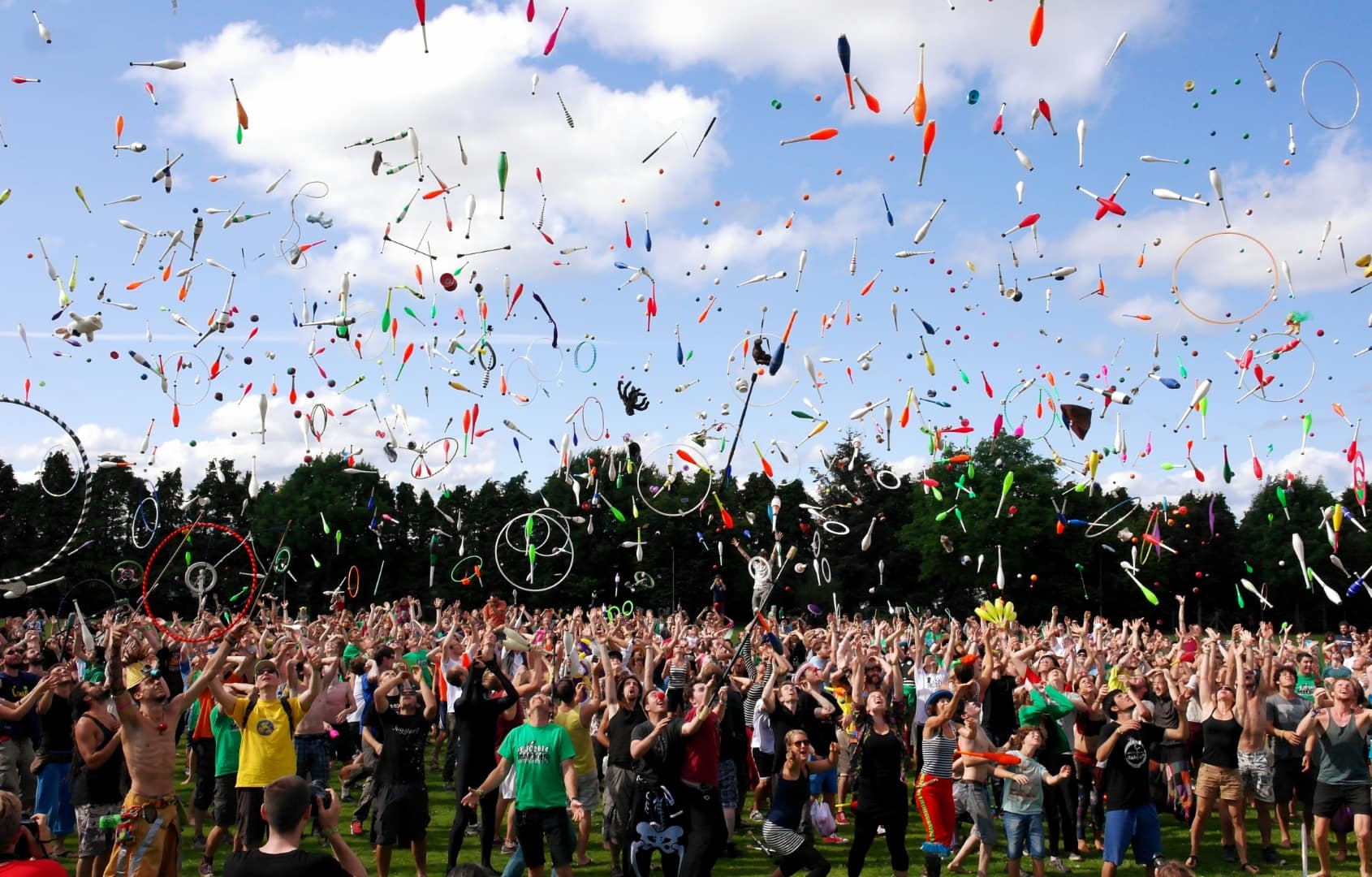 Greenwich and Docklands International Festival (GDIF)
From August 25th to September 10th, this festival is all about outdoor theatre, performance, art, dance and circus. It takes place across the Greenwich borough, from the beautiful historic setting of the Old Royal Naval College, to Eltham's bustling high-street and the dynamic twin Woolwich locations of General Gordon Square and Royal Arsenal Riverside. They also put on events in the outdoor public spaces of Canary Wharf, the City of London, the Royal Docks, and Tower Hamlets.
GDIF is free. Typically, a handful of performances are partially ticketed each year because of capacity constraints but even at these some free tickets to those with limited access to the arts are guaranteed. Some events are already been announced: check on the official website!
Summer by the River (London Bridge)
The festival opened in June 1st and runs until September 1st, over three locations (The Scoop, Hay's Galleria and The Pier). It features a variety of outdoor events and activities, including open-air cinema screenings, theatre live music, and food markets. It's a great way to enjoy the summer weather and explore the city.
Notting Hill Carnival (Notting Hill)
From August 27 to 28, you're invited to join London's biggest street party,with Caribbean colours, music and flavours during Notting Hill Carnival! You can expect to see some 50,000 performers, and choose from 300 food stalls! It's a tradition that has been running since 1966 and attracts almost a million visitors: you can't just miss it.
Some London free exhibitions in July and August
Art can also be enjoyed indoors, especially if the temperatures outside are very high. London as you know has plenty of museums available, but the exhibitions and tours that are offered every year are no less. Here is our selection for summer 2023: we chose some off-the-track exhibition for you to discover.
Desire, love, identity – an LGBTQ tour of the British Museum
The British Museum always offers many interesting tours among its works. This time we highlight 'Desire, love, identity. An LGBTQ tour of the British Museum" which will take place from 21 July to 26 August. You only need to book on the museum's website and then go to the Information desk (Great court).
The tour is completely free of charge: you'll discover a fascinating selection of objects with LGBTQ (lesbian, gay, bisexual, transgender and queer) connections from the ancient world to the present day, and includes some of the most famous artworks on display.
Print! Tearing it up (Somerset House)
Many magazines that have changed history, and at Somerset House you will have the opportunity to discover some independent British publications, starting with BLAST, founded in 1914, and ending with D.I.Y. zines, created in these years by teenage feminist collectives into the new millennium. Print! Tearing It Up explores the contemporary market of magazines, looking at the latest line of publishing pioneers.
Unruly Bodies (Goldsmiths CCA)
Running until September 3, the exhibition features 13 women and non-binary artists exploring how our bodies are tricky things to contend with, despite the body positivity movement. "Unruly Bodies" presents the body as monstrous, and rather than being a negative attribute, the body becomes a site of resistance and subjectivity.
We hope that some of these events and exhibitions will catch your attention and tickle your curiosity. Have a great summer in London!