The Best Apps To Use While Interning Abroad
For a student to embark on an internship abroad, is to leave the comfort of home to discover a new country, a new culture and to gain professional work experience.
Understanding how public transport works, meeting new people, exchanging currencies and traveling in a new country can be complicated depending on where you are. To make your life easier, many mobile applications have been developed and we have discovered some of the best.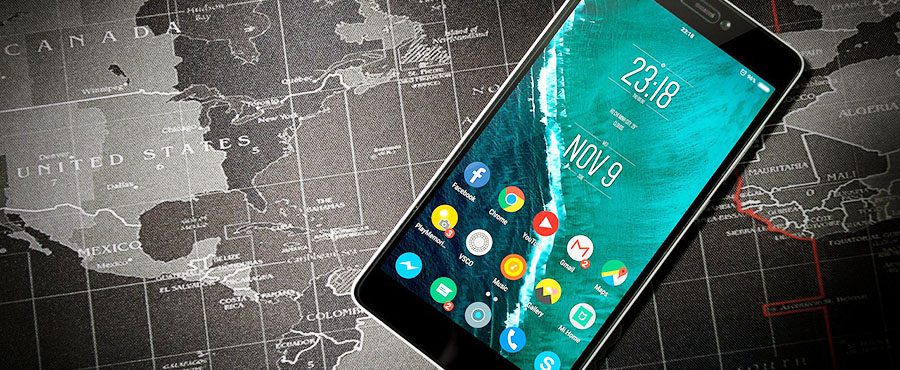 ---
Before leaving
The trip often starts well before departure because you have to prepare for your stay and organise what you will take.
You Got everything?
The mobile application You Got Everything? is an excellent tool for listing and remembering everything before you leave. You will find templates for lists which you can all customize and the designs are clean and minimalist. It is available on the Apple Store.
TransferWise Money Transfer
This application allows you to make money transfers from one account to another at a reduced cost. Because transferring money through a bank can be expensive, TransferWise uses the real-time exchange rate allowing you to lower the cost of your transfers up to 8 times. The app is available on the Apple Store and Google Play.
---
Communication
A smartphone is primarily a tool created to communicate, we have found several useful applications to keep you in touch with France.
WiFi Finder
Need to connect to WiFi? The app WiFi Finder geolocalises you and indicates the WiFi terminals nearby. A little extra: you can also see the cost of the connection to the terminal, and whether it is free or chargeable. It is available on Apple Store and Google Play.
Free WiFi – Instabridge
This is the same principle as "WiFi Finder" except that this application was only designed to locate free terminals.
Whatsapp
Whatsapp is a must-have app to keep in touch with family and friends in France. With this application, you can send messages, photos and create discussions with groups. This is the same principle as Facebook messenger but there is no need to have people as "friends" since it automatically adds them through the phone numbers of your phonebook. It is available on Apple Store and Google Play.
My Data Manager
This application will be especially useful to you the first days you are away if you haven't yet subscribed to a local package. With this app, you can easily control your mobile data usage in order to not incur additional costs. Available Apple Store and Google Play.
---
Moving
Need some help to get you where you want to go? We have selected the best application:
Metro
Metro will allow you to calculate your itinerary via public transport all around the world (over 400 cities are covered). It is available on Apple Store and Google Play.
---
Making friends
Meeting new people and communicating is a large part of any trip abroad. Here some applications to assist you:
Eventbrite
Also useful in France and abroad, Eventbrite geolocalises and offers events near you. Evenings, exhibitions, concerts, open doors… so many new ideas will be available to you! Available on Apple Store and Google Play.
Melteampot
Are you suffering from homesickness? Thanks to this app, you will be able to meet French people all over the world. This application is created so that you can join multicultural groups or not, and you can send messages and challenge yourselves with different games. It is available on Apple Store and Google Play.
Google Translate
Finally, do not forget to install the application "Google Translate". We don't always think about it and yet it will save you! The speech recognition element is very practical and even if the translation is not always perfect, it makes it possible to be understood most of the time. It is available on Apple Store and Google Play.
---
Calculations
When going abroad we have to use other currencies and units of measurement. To adapt, some new tools are necessary…
Calcbot
Useful if you leave Europe, Calcbot can convert currency, measurements and temperatures in a few clicks. You can also save your calculations thanks to its history and change the colours of its theme. Available on Apple Store only.
Qtip
If you are going to Canada, the US or another country where tipping is (almost) mandatory, the Qtip app will calculate the tip amount for you. It is an interesting tool when you are not used to paying for it and the gesture must become a habit.
---
Internshipmapper is a career portal for students and graduates. We also provide range of graduate recruitment services to help sourcing candidates for internships or graduate jobs,  and giving out graduate careers advice.  To hire graduates or browse graduate jobs, visit their website.​