Study World
After a great experience at Alphe, our team made their way to Study World where we had the chance to meet many new agents, schools and institution and worked on the road of international education. The event was scheduled with meetings and the opportunity to network with each other to make London and the UK even a better place for the students abroad. The QEII Centre where Study World was organised was absolutely amazing. With the event being located in the middle of London and with a view of the Westminster Abbey from the stand it was wonderful being there during this day.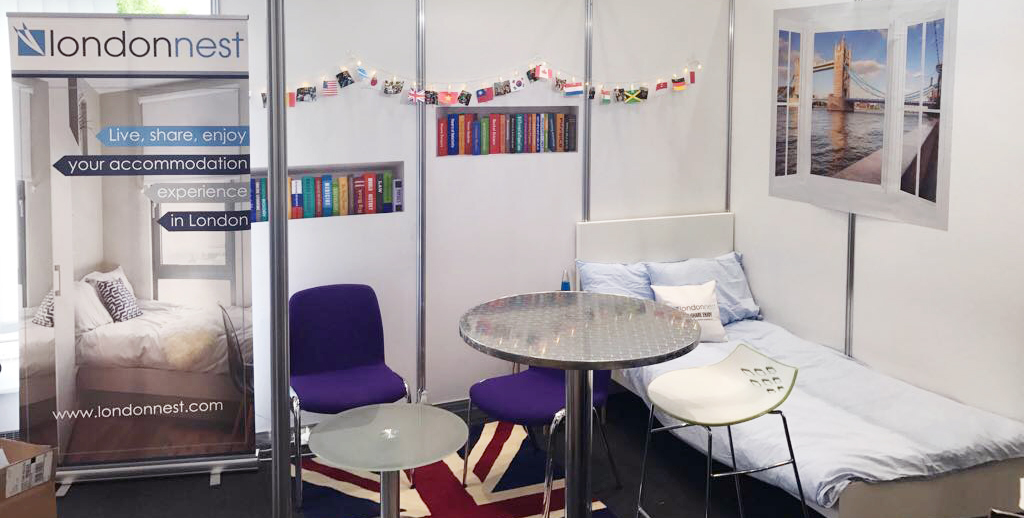 To receive people in London Nest style the stand at the event was completely refurbished into a London Nest bedroom! (Even with a bed) With the atmosphere and comfort of a London Nest accommodation, we told our story and vision to help more and more people realise their dreams and come and live in London in a comfortably. In this way we hope we gave a more creative and original vision of what London Nest does.
Furthermore, besides the networking possibilities the event also offered several seminars to attend giving the opportunity to meet new schools and agents to develop their activity, and reinforce the current partnership.. In this way we hope to combine knowledge and improve the study situation in the United Kingdom as it is right now. On the first day of the event our director James Herbertson was one of the few who gave a seminar based on his recent report 'more than just a room' in which he discusses the study abroad experience of millennials, and how to guide them to fulfil their dreams.
There were also other interesting seminars on all sorts of topics related to students abroad that London Nest attended. For example, Jacqueline Kassteen who talked about student-led marketing, but also Gavin Esler who gave an inspiring speech. After receiving all these people in our little 'bedroom', and all the seminars we would say the event was a huge success. This will definitely be a stepping-stone for London Nest's future success and for the international education in the UK. Looking forward to Study World 2018!