Need ideas on what to do in Aldgate?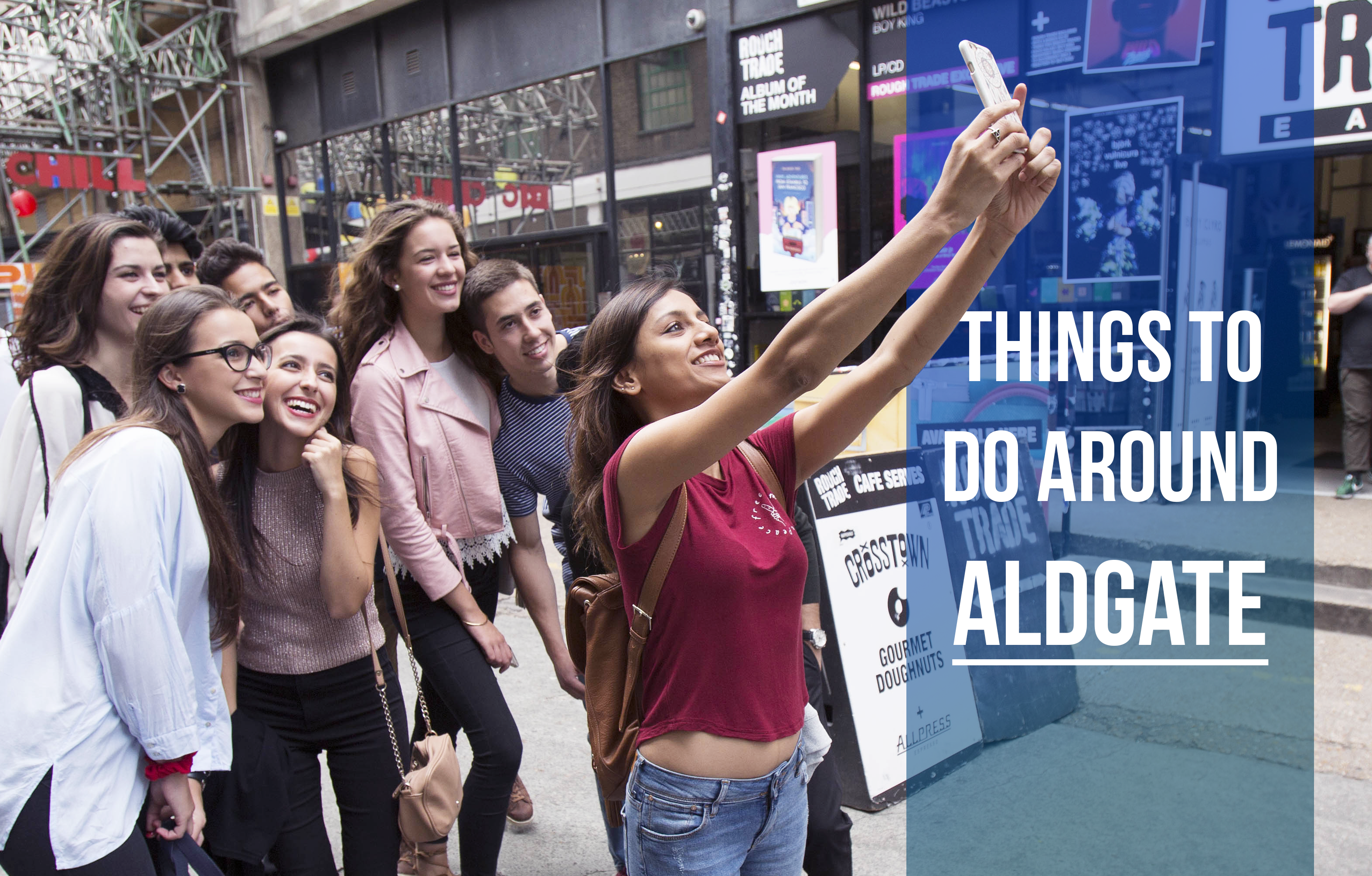 Cosmopolitan area known for markets and curry houses, Aldgate is one of the most vibrant area of the City. A unique mix of street art, galleries, food stands, hipster bars and iconic skyscrapers packed with young professionals wearing suits.
Here is what you can't miss if you are living there or just passing by on a Sunday morning:
Spitalfields Market where art and craft meet fashion and food is open every day, but it's in weekends that it shows at its best.
Brick Lane Sunday Market is a chaotic, bustling, artistic hub which attracts a lot of young Londoners and tourists looking for vintage and unusual clothes while enjoying an inexpensive Sunday lunch in one of the many ethnic restaurants and cafes lining the street.
For those looking to absorb the rich history of the area, the streets of Whitechapel, once roamed by Jack the Ripper, are just down the road. You can book a full-tour to walk the actual lanes where the crimes happened.
Shoreditch and Hoxton are also a short walk away so you can spot famous street art, from the likes of Banksy and Roa, which changes week by week.
Whitechapel Gallery is also worth a (free) visit beautiful galleries, exhibitions, artist commissions, collection displays, historic archives, education resources, inspiring art courses, Cafe/Bar and Bookshop, the Gallery is open all year round, so there is always something to see.
Start the day with an hipster breakfast at The Cereal Killer Café, the very first International Cereal Cafe, it sells over 100 different types of cereal from around the world. To create the perfect bowl of cereal you can choose from 30 different varieties of milk and 20 different toppings.
For lunch, the choice will be hard. There is plenty of food-stalls from all around the world: Japanese, Venezuelan, Ethiopian, Italian at a very affordable price. You won't be disappointed.
If you are looking for a traditional pub with a twist, The Culpeper is where you need to go. A large pub with artisan beer on the ground floor with a secret – not so secret – terrace that offers an amazing view of the city.
Last but not least, it's open until 2AM!
Why not end the day with a tasty Japanese dinner at Sushinoen, one of the best in town or at Efes if you still fancy traditional Turkish food.
The last unmissable stop is The Heron Tower: Sushisamba is surely an impressive restaurant and cocktail bar located on the 38th and 39th floor. The view is breathtaking, but make sure not to forget that drinks are quite pricy!
Extra Tip from the local:
If you are looking for a place for a special occasion, you should try Chez Elles on Brick Lane a tiny French bistro that serves amazing dishes from breakfast to dinner.
If you're looking for somewhere to stay in Aldgate take a look at The Curve, Aldgate East.