London's "Coolest" Splash Spots
Escape London's heat this summer at some of the city's best splash spots.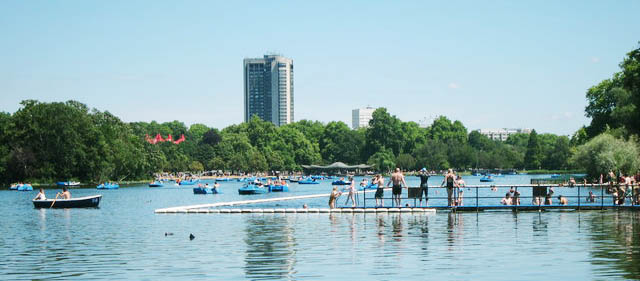 Best Location: Oasis Sports Centre
Location alone makes this one of the most unique spots in London. The Oasis Sports Centre is a full service fitness center in Covent Garden with a 27.5m long outdoor pool. The pool area has a sunbathing terrace, outdoor cafe and swimming lanes. During particularly sunny and hot days, this place can get quite packed, so don't expect to get much serious swimming done, especially during the weekends. Nonetheless, at just under £6 per visit, it's an affordable and central location to cool off!
Weekdays, 6:30AM-10PM
Weekends, 9:30AM-6PM
http://www.better.org.uk/leisure/oasis-sports-centre
Best Open Water Swimming: Serpentine Lido
For over 100 years, Londoners have been coming to Serpentine Lido in Hyde Park for sunbathing, over 100 yds of open water swim and a bit of wildlife. As it is a natural water experience, you may share the space with the occasional duck or wad of pondweed; nevertheless it's a great spot in Central London to catch some rays and cool off. Keep in mind, facilities are limited, meaning no hot showers and very few changing rooms.
Every day, 10AM-6PM
http://www.serpentinelido.com/
Most Beautiful: Parliament Hill Lido
The pool at Parliament Hill Lido is the only one in the UK with a stainless steel liner, which gives it a neat, metallic gleam. The pool is unheated, so unless you're visiting on a very warm day, it might be a bit chilly. The pool is quite large, including lanes for training and leisure. Although it's quite popular with families, Monday, Thursday and Friday nights are adults only swim!
Every day, 7AM- 6:30PM
Adult Only Swim: Mon, Thurs, Fri, 6:45PM-8:30PM
https://www.cityoflondon.gov.uk/things-to-do/green-spaces/hampstead-heath/swimming/Pages/default.aspx