Guinness World Record has confirmed – We Are Record Breakers
Guinness World Record has confirmed that English UK London and London Nest have broken a world record! It happened last summer on 21 July 2017 at the annual Summer Garden Party. Together we achieved the Guinness World Record title for the most nationalities in a language lesson. The new record is now set at 57 different nationalities. The event was attempted to celebrate language learning, cultural diversity and London's openness.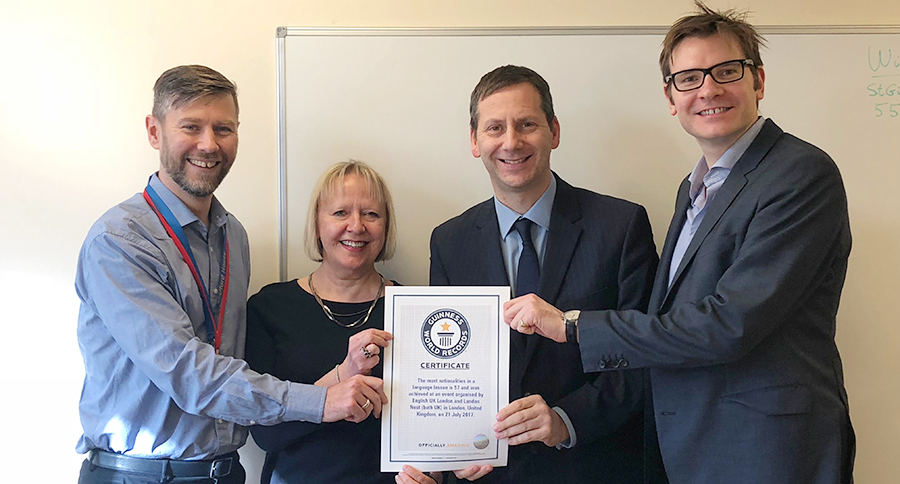 Together London Nest and EnglishUK London has managed to break the world record of number of nationalities in an english class!
On Friday 21 July we helped organise a Summer Garden Party where over 400 students attended to have a fantastic evening. Football, twister, can knock down, table tennis, face-painting, BBQ and so many more exiting activities at the party. Students having fun, challenging their friends, singing, dancing creating fantastic new memories and learning about each other's culture.
The event was crowded, filled with students, lining up along the pathway to join in the fun. Lucky for us the weather decided to stay bright and sunny! It was great working together as one to give students a time of their life in London.
James Herbertson (London Nest, Director) commented: "The long wait is over. We are proud to finally receive the recognition from Guinness World Record that London richly deserves."
The official certificate was presented to representatives of London Nest and English UK London.
Mark Rendell (English UK London, Chair) said: "This is a tremendous achievement and acknowledgement of all the hard work that goes on by our member language schools in bringing people from all over the world to study in the capital." 
Watch the VIDEO that marks our achievement 🙂