CONIFA Paddy Power World Football Cup 2018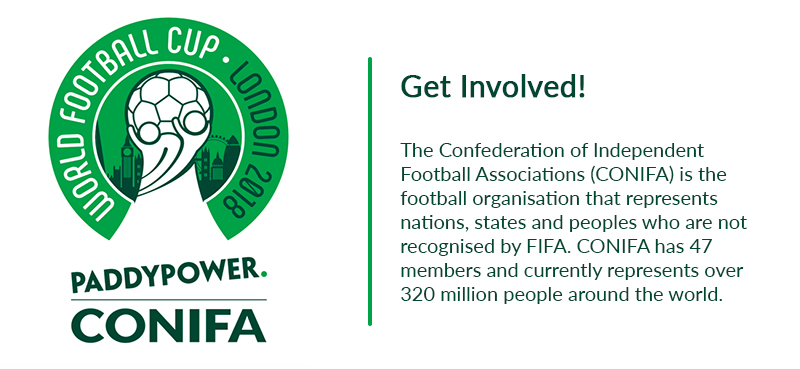 Have you always wanted to experience the camaraderie and excitement of watching a football match? Well, CONIFA is providing you with the opportunity to watch an intense and lively game: Padania vs Matabeleland, Thursday 31 May. The CONIFA Paddy Power World Football Cup is coming to London in 2018, from May 31 – June 9, and this is your opportunity to enjoy an exciting game, all for a fantastic cause! CONIFA aims to build bridges between people, nations, minorities and isolated regions all over the world, through the pleasure of football and similar sports. CONIFA is committed to fair play, and the eradication of racism, promoting affiliated groups and contributing to the growth of those teams associated with them.
---
TICKETS
The cost of the tickets is £10 and £5 of that will be going towards the Matabeleland team to help them come over from Zimbabwe. So your ticket purchase is contributing towards the football match! CONIFA is a non-profit organisation, providing support to representative of football teams from different nations and regions, with an interest in strengthening minority groups through the promotion of sports in isolated territories. Here is the perfect opportunity for you to enjoy a football game with your friends and family, knowing that your money is going towards a good cause.
---
VOLUNTEER ROLES
CONIFA is looking for volunteers to get involved in the tournament with a variety of roles ranging from a single day commitment to 6 days. Roles include player liaisons for the teams (language skills very desirable, especially French, Italian, Tibetan and Japanese), match- day turnstile operators and stewards and match-day managers. More in depth role summaries can be provided as required.
---
BACKGROUND KNOWLEDGE
CONIFA is the international governing body for non-FIFA affiliated Associations for football, futsal and beach soccer. The football teams of Padania and Matabeleland are examples of such teams. Padania and Matabeleland do not compete in games like FIFA World Cup or the Africa Cup of Nations. Instead, these teams compete in games overseen by CONIFA allowing them international recognition in football games.
The term Padania is the name of a proposed institutional region in the Po Valley in Italy which was established by statesman Guido Fanti. The Padania Football Association is a new foundation, and the first political, independent Football Association to promote football in the Pado Valley. Padania FA (PFA) helps people in the region to present themselves in matches and international tournaments, and to educate people worldwide about their history and culture. The team finished 5th in the CONIFA World Football Cup 2014 and boasts players like Enoch Balotelli, the brother of the famous Mario Balotelli.
Matabeleland is one of the 3 regions in Zimbabwe, and is located in the western division. The region is named after the inhabitants of the Ndebele people. They are not affiliated with FIFA or CAF, but are affiliated with CONIFA. The team is run by the Matabeleland Football Confederacy, under the administration of the Save Matabeleland Coalition. The Confederacy aims for improved human rights, Community Development, career grooming and social exposure through the promotion of football.
---
VENUES
Gander Green Lane (Sutton United FC), 3PM         Complete fixture list available here
---
FOR FURTHER INFORMATION
Do enjoy this rare opportunity to witness the CONIFA World Football Cup 2018, in this must-see game. A great opportunity for you to relieve your tensions by watching a great match.
To find out more about this football match, where and how to get tickets, please contact Ola Gasza at ola@londonnestltd.com
Also, find out more about CONIFA here.