Best Ice-Skating Rinks in London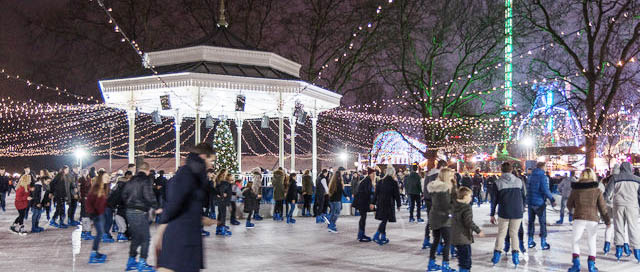 With Christmas being around the corner London has turned into a magical place. Christmas decorations are now up, the Christmas markets and festivals are coming soon, but also we can now go ice-skating again! Below we summed up the best ice-skating rinks for you to make the most of these cold November days in London.
Skylight:
From the 2nd of November Skylight transforms to a winter wonderland. This is London its first rooftop ice rink and it is truly spectacular. Not only you can have fun ice-skating but while doing this you have an amazing view over London. This really makes the experience complete and gives these cold winter days a charming vibe. Even if you do not like ice-skating it is still worth going. Skylight has several other activities that you can do, as pétanque and croquet. Also, as the cherry on the icing, you can have some fondue after all those games to relax and enjoy the stunning view. Additionally, the entry is free, so if you just want to have a look or admire the London skyline, go and pay a visit, it is worth your time.
Lumino City Ice Rink Canary Wharf:
One of the more famous ice-skating rinks is the one in Canary Wharf. The ice rink is very modern with led lights underneath the ice. These lights really give this ice rink this disco on ice kind of look. Another big advantage of the Lumino City ice rink is that it is indoors. So don't worry about rain or bad weather. Also around the ice rink there is enough to do. Being in the heart of London there are enough restaurants, bars and shops surrounding the ice rink.
Somerset House Ice Rink:
For a more classic experience the Somerset house ice rink is one that we would definitely recommend. Being surrounded by this architectural masterpiece while ice-skating is something special. Also, with all the Christmas decoration it really gets you in the Christmas spirit. But the ice rink offers way more than just that. A special music programme, Fortnum's Lodge where you can get some food, a skate lounge where you can watch the action from the side, and a Christmas arcade section.
Winter Wonderland Ice Rink
The most romantic option without doubt would be the ice-skating rink at Winter Wonderland. Being surrounded by twinkling lights is truly magical, and awakens the Christmas spirit. Being here is just one in a lifetime experience, that you cannot miss out on. Also one big advantage of this ice rink is that it is the biggest open-air rink in the UK. So enough space to practice your skating moves. Besides the ice rink there are many other things to do around Winter Wonderland. There is a Christmas market, a love ice-bar, a giant wheel, and several ice-skating shows. As the name says it really is a winter wonderland.
Hopefully you will all enjoy these activities, but be careful to not fall on that slippery ice!